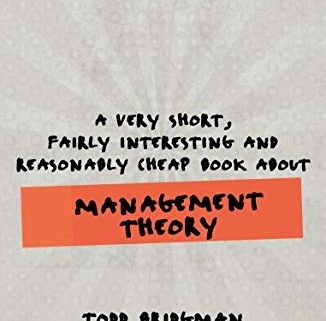 Conceived by Chris Grey, the Very Short, Fairly Interesting and Reasonably Cheap series offers an antidote to conventional textbooks. Each book takes a core area of the curriculum and turns it on its head by providing a critical and sophisticated overview of the key issues and debates in an informal, conversational and often humorous way.
In Management Theory, Todd Bridgman and Stephen Cummings uncover enduring myths about famous theorists, from Adam Smith and Max Weber to Frederick Taylor, Mary Parker Follett, Abraham Maslow and Kurt Lewin. By exploring how these myths became cast as the foundations of management, this accessible and engaging book generates new ways of thinking about what management could be today and in the future.
Todd Bridgman
(@toddbridgman) is Associate Professor in the School of Management at Victoria University of Wellington, New Zealand. Todd completed his PhD in organization studies at the University of Cambridge. His research interests lie at the intersection of management history, management education and critical management studies. In particular, he is interested in challenging conventional histories of management that appear in textbooks and writing alternative histories as a way of rethinking how management is taught to students. Todd edited The Oxford Handbook of Critical Management Studies (Oxford University Press, 2009) with Mats Alvesson and Hugh Willmott and his research won Best Paper prizes in Human Relations (with Stephen Cummings and Kenneth Brown) and Academy of Management Learning and Education (with Stephen Cummings and Colm McLaughlin). Todd is Co-Editor-in-Chief of the international journal Management Learning and is a member of the editorial boards of Academy of Management Learning and Education and Organization.
Stephen Cummings 
(@theatomnz) is Professor of Strategy and Innovation and Co-Director of The Atom Innovation Space, at Victoria University of Wellington. He completed his PhD at Warwick Business School. Stephen's research investigates how assumptions about history can limit innovation and he is currently Co-Chair of the Critical Management Studies Division at The Academy of Management. His recent books include Handbook of Management and Creativity (Edward Elgar, 2014 – with Chris Bilton), Strategy Builder (Wiley, 2015 – with Duncan Angwin), A New History of Management (Cambridge University Press, 2015 – with Todd Bridgman, John Hassard and Michael Rowlinson), and the forthcoming A New History of Sustainable Management (Palgrave – with Todd Bridgman). His article, Unfreezing Change as Three Steps published in Human Relations (with Todd Bridgman and Kenneth Brown) has been downloaded over 200,000 times.  
https://www.sichtart.at/wp-content/uploads/2021/04/Management-Theory.jpg
500
326
sichtart
https://www.sichtart.at/wp-content/uploads/2018/04/HG_home2-300x127.jpg
sichtart
2021-01-08 23:14:00
2021-04-30 14:08:07
A Very Short, Fairly Interesting and Reasonably Cheap Book about Management Theory