Riane Eisler, Caring Economics
Die verkannten Grundlagen der Ökonomie, Wege zu einer Caring Economy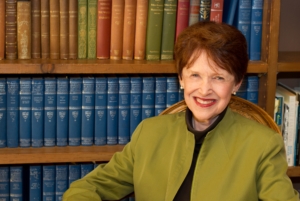 DR. RIANE EISLER, JD, PhD (hon) is a social systems scientist, cultural historian, attorney, consultant, and speaker. Her work has transformed organizations, policies, and people worldwide, and her book Nurturing Our Humanity: How Domination and Partnership Shape Our Brains, Lives, and Future (co-authored with anthropologist Douglas Fry, Oxford University Press 2019) shows how to use partnership systems to construct a more equitable, sustainable, and less violent world.
Dr. Eisler is Founder and President of the Center for Partnership Studies (CPS), dedicated toresearch and education, and Editor-in-Chief of the Interdisciplinary Journal of Partnership Studies, an online peer-reviewed journal at the University of Minnesota. CPS was created to build upon a momentum following keynotes at conferences nationally and internationally, addresses to the United Nations General Assembly, the U.S. Department of State, and Congressional briefings, as well as talks given at corporations and universities worldwide on applications of the partnership model introduced by Eilser's pioneering work reviewing human history and prehistory from a systems science perspective. Her bestseller, The Chalice and The Blade: Our History, Our Future, the first book reporting her findings, is now in 27 foreign editions and 57 U.S. printings. Her next book, The Real Wealth of Nations: Creating a Caring Economics, was hailed by Archbishop Desmond Tutu as "a template for the better world we have been so urgently seeking." Other publications from Eisler's research include the award-winning Tomorrow's Children, Sacred Pleasure, and Women, Men, and the Global Quality of Life, which statistically documents the key role of women's status in a nation's quality of life. Notably, Eisler's Equal Rights Handbook, is the only mass paperback on the proposed Equal Rights Amendment.
Dr. Eisler taught at UCLA, CIIS, and the University of Alabama, and she authored over 500 articles in publications ranging from Behavioral Science, Futures, Political Psychology, The Christian Science Monitor, Challenge, UNESCO Courier, Brain and Mind, Human Rights Quarterly, International Journal of Women's Studies, and World Encyclopedia of Peace, as well as chapters for books published by trade and university presses (e.g., Cambridge, Stanford, and Oxford University). Her research provides a new, urgently needed perspective on our past, present, and possibilities for the future, introduces a systemic change roadmap for building a more humane and sustainable world, and expands the concept of human rights to include the majority of humanity: women and children. Along with founding the Center for Partnership Studies, Eilser launched the Caring Economy Campaign, to demonstrate the economic value of caring for nature and caring for people, starting at birth. Since 2019, the Center for Partnership Studies has been developing a Social Wealth Index (SWI) using data from OECD countries to provide a concise guide to business and government policy-making in the post-industrial era.
Dr. Eisler is the only woman among 20 major thinkers, including Hegel, Adam Smith, Marx, and Toynbee in Macrohistory and Macrohistorians, to be acknowledged for her innovative work as a cultural historian and evolutionary theorist. Among the many honors she has received, some highlights are the Nuclear Age Peace Leadership Award, the Feminist Pioneer award, and reognition in Great Peacemakers as one of twenty renowned leaders for world peace, alongside Mahatma Gandhi, Mother Teresa, and Martin Luther King. She is an honorary member of the World Future Council and the Club of Rome. In 1970, Dr. Eisler wrote an amicus curiae brief to the US Supreme Court explicating the legal opionion that gender-based discrimination violates the Equal Protection clause of the 14th Amendment.
"Wirtschaftliche Ungleichheit ist kein Alleinstellungsmerkmal des unregulierten Kapitalismus, sondern vielmehr ein generelles Merkmal von dominanzgeprägten Wirtschaftssystemen. Eigentlich ist nicht der Kapitalismus das Ungeheuer, sondern die ihm zugrunde liegenden dominanzgeprägten Überzeugungen, Strukturen und Gewohnheiten. Das Ausblenden von Fürsorge und Care-Arbeit in der etablierten Wirtschaftstheorie- und praxis hat verheerende Auswirkungen auf die Lebensqualität von Menschen, auf unsere natürlichen Lebensgrundlagen sowie auf die wirtschaftliche Produktivität, Innovationsfreude und Anpassungsfähigkeit an neue Bedingungen." Riane Eisler
Riane Eisler schlägt neue sozialwissenschaftliche Paradigmen vor, die die Grenzen herkömmlicher sozialer Gegenüberstellungen wie religiös vs. säkular, rechts vs. links, kapitalistisch vs. kommunistisch, Ost vs. West und vorindustriell vs. industriell oder postindustriell überschreiten. Sie stellt die Frage, welche Arten von Institutionen und Überzeugungen gerechtere und friedlichere Beziehungen unterstützen. Bei der Beantwortung dieser Frage bietet Eislers multidisziplinäre, interkulturelle Forschung ein neues analytisches Instrument zum Verständnis und zur Verbesserung sozialer Systeme: ein biologisch wie kulturell fundiertes Partnerschaft-Dominanz-Modell. Darin beschreiben partnerschaftliche Strukturen einerseits und das Modell der Beherrschung andererseits die beiden Pole eines Kontinuums. In diesem Kontinuum richten sich Gesellschaften in die eine oder andere Richtung aus und schaffen damit unterschiedliche Lebenswirklichkeiten bzw. jeweils eigene Formen des Ausschlusses und der Teilhabe von Menschengruppen. Eisler identifiziert das Partnerschaftssystem und das Dominanzsystem als zwei grundlegende soziale Konfigurationen, die sich vor allem darin unterscheiden, wie sie die Beziehung von Mensch und Natur, Eltern-Kind-Beziehungen, Geschlechterrollen und Beziehungen in weiteren gesellschaftlichen, ökonomischen Zusammenhängen konzipieren und welchen Stellenwert sie der Fürsorge für Mensch und Natur geben.
"Der Marktwert einer Sache wird oft von Dynamiken verzerrt, die auf Vorannahmen aus Dominanzsystemen beruhen und verhindern, dass die tatsächlichen menschlichen Bedürfnisse befriedigt werden. Nicht der Mensch dient dem Markt, der Markt dient den Menschen. Der Markt muss die Interessen der Menschen wahrnehmen, anstatt sie zu zwingen, den Anforderungen des Marktes zu genügen. Wirtschaftssysteme sind menschliche Schöpfungen." Riane Eisler
Die alten und auch noch weit verbreiteten Wirtschaftstheorien beinhalten nur drei der sechs Faktoren, die eine starke, gesunde, nachhaltige Wirtschaft in Demokratien braucht. Der hohe volkswirtschaftliche Faktor der unbezahlten Arbeit wird in der konventionellen Wirtschaftslandkarte nicht sichtbar. Caring-Economics schließt alle diese Sektoren ein. Mit dieser allumfassenden Perspektive können wir beginnen, ein Wirtschaftssystem zu entwerfen, das die beispiellosen sozialen, wirtschaftlichen und ökologischen Herausforderungen, denen wir gegenüberstehen, effektiv angeht und die volle menschliche Entwicklung ermöglicht.
"Uns wurden aus der Vergangenheit dysfunktionale Wirtschaftsmodelle und Bewertungsmaßstäbe aufgebürdet, die wiederum zu dysfunktionalen Praktiken und einer dysfunktionalen Politik geführt haben. Hauptursachen für scheinbar unlösbare Probleme wie Armut, Überbevölkerung und Umweltzerstörung." Riane Eisler, demokratie unternehmen 
Caring Economy Goes Beyond GDP
Building a Caring Democracy
The BetaCodex Network congratulates Riane Eisler on her milestone birthday.
It was a pleasure to create this small gift with some excerpts from her life's work. We are very impressed that she has spent her life finding appropriate answers to many social and economic issues and making them available to the world. A Thank-you for all her work to re-examine human nature to find misunderstandings and overcome harmful assumptions and patterns. Also for the work of changing society to create conditions in which our positive human capacities for caring, consciousness, and creativity can develop and flourish. In her work she has explored and provided important distinctions and underlying harmful and beneficial patterns that give us essential connections and opportunities for action for a healthy, strong society, economy and Mother Earth.